February 27, 2012
Pro Bono to Protect Democracy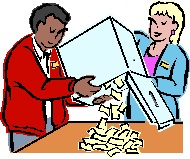 The 2012 election season is in full swing.  Public confidence in the integrity and fairness of elections is one of the most fundamental elements of a strong democracy.  As The PBEye previously reported, elections and the legal issues that surround them are fertile grounds for lawyers, law firms, and legal departments looking to develop or expand their pro bono practice.  Pro bono lawyers are at the forefront of legal efforts during and in-between major national election cycles to cure legal flaws in the election system which threaten the accuracy and legitimacy of the voting process.
As we continue to pay greater attention as the campaign unfolds, the Law Firm Pro Bono Project is pleased to announce the release of the 2012 edition of its publication Facing the Challenges of Citizenship: Election-Related Pro Bono Opportunities.  This publication is available free of charge to Law Firm Pro Bono Project Member firms and to all others for purchase.  To obtain a copy, please contact Law Firm Project Assistant, Christine Sutherland.  If your firm is not yet a member, you can enjoy the many benefits, such as access to all publications free of charge, by becoming one today!
Next month at the Pro Bono Institute Annual Conference, we'll be exploring how pro bono lawyers can play an important role on Election Day and all year round, including emerging issues, how to get started, and opportunities for collaboration.  Don't miss the session Pro Bono in Practice: Elections (Thursday, March 29, 2:45 to 3:45 p.m.), which will feature representatives from leading public interest organizations working in this area, including The Lawyers' Committee for Civil Rights Under Law.
If you have questions or still need to register for the Conference, please send an email to PBIEvents@courtesyassoc.com or call 202.973.8720.  We hope to see you there!