February 22, 2012
Calling In-House Attorneys and Staff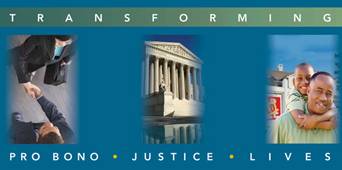 Do you have plans for March 28-30?  Why not join CPBO at the Pro Bono Institute Annual Conference in Washington, D.C.?  This year's event promises numerous informative and engaging sessions.  The in-house track of the conference kicks off on Wednesday, March 28, with a plenary session followed by two nuts and bolts sessions—one for those starting or reviving a pro bono program (In-House Pro Bono: The Basics) and one for more experienced pro bono practitioners (Corporate Pro Bono 2.0: Momentum and Growth in Mature Programs).  Both sessions will feature a panel discussion followed by smaller group discussions to drill down on the topics covered during the panel discussion. 
In-House Pro Bono: The Basics
Designed for legal departments that have recently created or restructured a formal pro bono program, or are in the process of doing so, this session offers a brief but comprehensive orientation to the basics of designing, guiding, implementing, or administering a successful in-house legal department pro bono program.  Topics covered will include getting started, securing management support, drafting policies, and identifying opportunities and partners, among others.
Corporate Pro Bono 2.0: Momentum and Growth in Mature Programs
This session provides representatives from legal departments with formally structured, longer-term pro bono programs an opportunity to discuss issues of common concern and learn about exciting new ideas and approaches to in-house pro bono.  It will consider what in-house pro bono could and should look like as the sophistication level of in-house pro bono grows.  Topics of discussion will include integrating pro bono and corporate social responsibility, developing longer term more sophisticated projects, and global pro bono.  Discussion topics will include undertaking global pro bono work, developing signature projects, creating partnerships and collaborations, integrating pro bono with your company's philanthropic efforts, and measuring the impact of your pro bono work.
For an up-to-date list of sessions, click here.  If you have questions, please send us an email.  To register for the Annual Conference, click here.