December 15, 2011
Pro Bono Gift Guide
Happy Holidays to pro bono junkies everywhere!  Choosing the perfect gift is one of life's perennial challenges and The PBEye is once again here to help.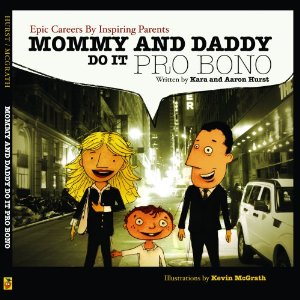 Last year, we recommended The Power of Pro Bono, a gorgeous book that explores 40 pro bono design projects.  This year, we have a suggestion to appeal especially to pro bono supporters and their children—and to those who are still kids at heart: Mommy and Daddy Do It Pro Bono by our friend Aaron Hurst, founder of the Taproot Foundation and Kara Hurst, vice president of Business for Social Responsibility .  The book aims to inspire the next generation to give back to their communities and explores the importance of social responsibility.
What starts with an adorable girl asking, "What do you do, daddy?" leads to a description of impressive careers by inspiring parents.  Pages titled, "My mommy is a lawyer" blends the teachings of professional success with a commitment to service.  After describing a child's thoughts on what a lawyer actually does, the next page follows with, "She also works pro bono for families to help them keep their homes when they have trouble paying rent."
The dedication page speaks for itself:
For all the professionals out there—who want to be a role model for their children; who see their professional skills as tools for business and social change and who need a better answer when asked: "What are you doing to make the world a better place."
This cute and accessible book highlights the season's theme of "giving back" and the importance of instilling an enthusiasm for pro bono work in the generations to come.  The message resonates as an antidote to the consumerism that can overwhelm this time of the year.
If you know of any interesting pro bono-related gifts, let us know by leaving a comment below!