November 3, 2011
Faces of Pro Bono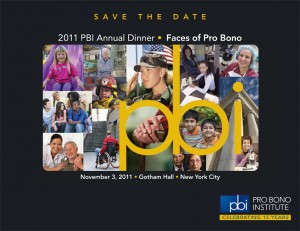 Tonight's the night!  The Pro Bono Institute's Annual Dinner will be held tonight in New York.  Co-Chaired by Ford Motor Company*'s David Leitch and Wilmer Cutler Pickering Hale and Dorr LLP*'s William Lee, the Dinner is sure to be a smashing success. 
This year's Dinner will honor Morrison & Foerster LLP* with the John H. Pickering Award and the partnership of Verizon Communications Inc.** and DLA Piper LLP* with the CPBO Partner Award for their outstanding achievements and commitment to pro bono.  The Dinner will also celebrate the 15th anniversary of the founding of PBI. 
The PBEye is especially excited about the Dinner's special guest, Dewey Bozella, who was wrongfully convicted of murder and spent 26 years in prison. He was released in 2008 thanks to the hard work of attorneys at WilmerHale, who took his case pro bono.  An amateur boxer, Bozella recently won his first professional bout. 
Be sure to check back with The PBEye for photo and video highlights from the Dinner in coming weeks.  We're taking tomorrow off, and will be back on Monday.  In the meantime, check out more information about this year's event, and relive past year's Dinners.