September 19, 2011
Upcoming Session at the 2012 Annual Conference
Planning is underway for the 2012 Annual Conference in Washington, D.C., to be held March 28-30.  One of the highlights is the annual "Marketplace of Ideas" session, a fast-paced opportunity for presenters to share cutting-edge pro bono projects and for attendees to learn about new opportunities, offerings, infrastructure, and other pro bono developments.
Click here to read a summary of the 2011 Marketplace of Ideas presentations.
We look forward to learning more and sharing other ideas and projects at the 2012 Annual Conference.  Those wishing to serve as Marketplace of Ideas pres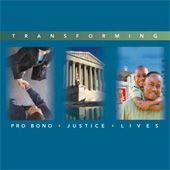 enters may submit brief proposals in advance describing their initiatives, to ensure adequate time and capacity for all presentations.  Please send submissions to Law Firm Pro Bono Project Director Tammy Taylor.