May 10, 2011
Time is Running Out for the CPBO Partner Award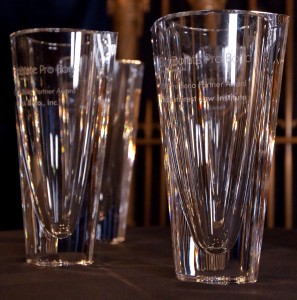 The PBEye wants to remind you that Corporate Pro Bono will be accepting nominations for the 2011 Corporate Pro Bono Partner Award (we've told you about it before, here and here) for just four more weeks.  If you know of an outstanding pro bono partnership project involving a legal department, be sure to submit your nomination to CPBO by June 3.
The annual award recognizes in-house legal departments that demonstrate an extraordinary commitment to pro bono and will be presented at the Pro Bono Institute Annual Dinner  at Gotham Hall in New York on November 3.
Past recipients have included:
2010 – Accenture plc*, Caterpillar Inc.*, and Merck & Co., Inc.* in partnership with Baker & McKenzie** and PILnet (formerly PILI)
2009 – Aetna Inc.* in partnership with Lawyers for Children America and in partnership with Bet Tzedek Legal Services and Manatt, Phelps & Phillips, LLP**
2008 – The Williams Companies, Inc.* in partnership with Hall, Estill, Hardwick, Gable, Golden & Nelson, P.C. and Legal Aid Services of Oklahoma
2007 – 3M Company* with Children's Law Center of Minnesota
2006 – Microsoft Corporation* and Volunteer Advocates for Immigrant Justice with collaborating law firms Davis Wright Tremaine LLP**, Dorsey & Whitney LLP**, Heller Ehrman LLP, Holland & Knight LLP**, Perkins Coie LLP**, Preston Gates & Ellis LLP, and Riddell Williams P.S.
2005 – U.S. Bank* with Dorsey & Whitney LLP**, Central Minnesota Legal Services, Inc., and Volunteer Lawyers Network, Ltd.
2004 – State Farm Insurance Companies with Prairie State Legal Services, Inc.
2003 – Abbott Laboratories* with Baker & McKenzie** and Midwest Immigrant & Human Rights Center
Nominees must be composed of at least one legal department and one or more law firms and/or public interest group partners.  The criteria for selection are:
1.) A legal pro bono project that has a demonstrated impact on its community/target group;
2.) Substantial involvement by in-house lawyers;
3.) Tangible steps toward making the partnership sustained; and
4.) Innovative substantive and/or structural (e.g., delivery model) approaches to the effort.
Please submit your nomination by June 3 to Eve Runyon, director, Corporate Pro Bono by email or mail, c/o Pro Bono Institute, 1025 Connecticut Avenue, NW, Suite 205, Washington, DC 20036, or for more information about the process contact her at 202.729.6694.
*denotes a Signatory to the Corporate Pro Bono ChallengeSM
**denotes a Signatory to the Law Firm Pro Bono Challenge®