March 17, 2011
Interested in a House Call?
Do you need help taking the ideas you learned at the 2011 Seminar/Forum and putting them into practice?  Are you taking full advantage of your Law Firm Pro Bono Project Member Benefits?  Why not invite the Law Firm Project for a visit!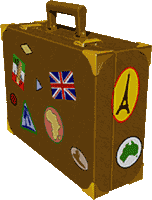 The Law Firm Project provides a technical assistance program for Member law firms called House Calls, where Project Director Tammy Taylor and Assistant Director Reena Glazer visit law firms in a community, meet with pro bono committees, firm and office leaders, partners, and pro bono coordinators to discuss national trends in pro bono and to learn about innovative pro bono projects under way at their firms and in their communities.  Since 2007, we've had successful house call trips around the country, and as far as the U.K. and Australia.
If you are interested in a house call visit to your community, please contact Tammy Taylor.  The details and agenda of the meeting can be tailored to meet your needs, and focus on issues of concern and interest to you and your firm.  Please note that it may not be possible to fill all requests this year.  If your travels bring you to Washington, D.C., let us know – we'd be delighted to meet with you at your convenience.  This benefit is provided free of charge to Member law firms.