January 27, 2011
Pro Bono On the Big Screen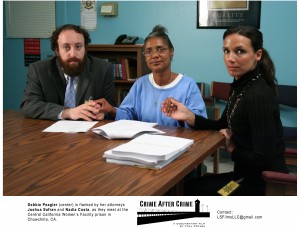 The PBEye thinks you'll want to check out the work of two pro bono lawyers from Bingham McCutchen LLP*, that's featured in a documentary film which recently premiered at the Sundance Film Festival.  The film, Crime After Crime, was directed by Yoav Potash and depicts the case of Deborah Peagler, a woman imprisoned in California.  Peagler's physically abusive boyfriend forced her into prostitution, and after his murder, she was sentenced to twenty-six years for her connection to it.
At the time of Peagler's trial there was less public awareness of domestic violence issues, and suspected malfeasance by the D.A.'s office, so the full circumstances of her case were never heard.  Once a new penal code was introduced in California two decades after her sentencing, two Bingham pro bono lawyers, Nadia Costa and Joshua Safran, signed on to reopen the case.  And once Peagler was diagnosed with cancer, her judicial fate became more urgent.
Woven through the narrative of the film is the harsh statistic that 80 percent of women in American prisons are survivors of rape or some form of domestic violence.  The film advocates for more states to revisit their penal codes to consider the circumstances of abuse.  Debbie Peagler was released on parole on August 22, 2009.  She died in June 2010 from lung cancer.
*denotes a Signatory to the Law Firm Pro Bono Challenge®