January 20, 2011
Everything I Need to Know about Pro Bono…I learned at Law Firm Pro Bono 101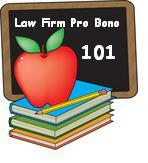 Are you a newly appointed managing partner, pro bono committee chair, pro bono counsel, partner, or coordinator?  Are you a firm leader that has recently created or restructured a formal pro bono program or are planning to do so in 2011?  Do you like continental breakfast? If you've answered yes to two or more of these questions, please join us for Law Firm Pro Bono 101, on March 3 at 8:30 a.m., to kick off this year's Annual Seminar/Forum.  This session is an interactive crash course on structuring, implementing, and administering successful law firm pro bono programs.  PBI staff members will provide you tips for navigating the Seminar in order to maximize your "newbie" experience, and you will learn how to get the most out of what the Law Firm Pro Bono Project has to offer year-round.
Speaking of resources, in addition to the materials flash drive provided to all Seminar/Forum registrants, each 101 attendee will be the proud owner of a brand new "Nuts and Bolts of Law Firm Pro Bono" CD, which includes examples of various pro bono annual reports, pro bono awards, global pro bono opportunities, pro bono marketing, pro bono policies and procedures, numerous Pro Bono Institute publications, and other resources that will make your life easier as you strive to improve your firm's pro bono program.
Pre-registration is required for this program, and space is limited, so sign up today through your personal Cvent registration page.  If you did not receive an e-vite to the Seminar/Forum please contact probonoseminar@courtesyassoc.com. 
This session is always one of our favorites and a great way for you to learn from your colleagues in law firm pro bono.  We hope to see you there!